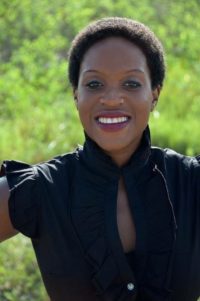 Outstanding Young Alumni Award 2018
Hartsville, S.C. – January 25, 2018  –  Elsie Chipo Mufuka, Coker University class of 2008, has been named the 2018 recipient of the Coker University Alumni Association's Outstanding Young Alumni Award. This prestigious award is given annually by the Coker University Alumni Association and presented to a graduate of the past 20 years who has already made significant achievements in his or her chosen profession and who shows exceptional potential for future accomplishments.
Mufuka received her B.A. in Dance and Communications from Coker University and is currently studying for her Master's in Arts Administration from Winthrop University.
Mufuka is the founder and director of MufukaWorks Dance Company, a Charlotte Ballet  teaching artist, and dance teacher in the Union county (N.C.) public schools.
After earning her undergraduate degree from Coker, she accepted her first opportunity in South Africa with Ntosana Contemporary Dance Theatre director Sello Pesa. For many years, Mufuka worked with this company as well as Taelo Dance Theatre-Gustin Makgeledisa, DTL Entertainment-Tumie Letsoenyo, and Lorcia Cooper. Mufuka also taught dance in the townships of Soweto and Alexandra.  While there, she toured with Dance Company to Mozambique and the Netherlands.
Mufuka is very involved in the community as a former outreach teacher at Johnson C. Smith University and former Chair of the Board of Charlotte Dance Festival. Mufuka has held Dance Education Workshops at Whale Branch Elementary (Beaufort, S.C.), Bluffton School of Dance  (Bluffton, S.C.), dance performances at the Lexington International Festival (Lexington, N.C.), Gullah Festival, Piccolo Spoleto, Links Inc. Dance Performance School Series, Levine Children's Hospital, Charlotte Emerging Young Artist Dance Festival, and is currently accepted to 2018 LadyfestCLT.
Mufuka's awards include winning a full scholarship to Dance/USA Convention and being selected as a choreographer to participate in Creative Capitol hosted by the N.C. Arts Council.