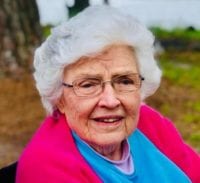 Elizabeth Lee "Betty" Singletary Nelson passed on July 8, 2020 at the Syl-View Health and Rehabilitation Center.
Betty was born to the late James Henry and Annie Mae Tuten Singletary on August 22, 1934 in Pamplico, SC. At a young age she and her family moved to Augusta, GA. There she would meet her childhood sweetheart, William Brice Nelson, Sr. After attending Coker College and the University of Georgia, she and William wed and resided in Germany, where they served out his enlistment in the US Army. While there, they would wire funds to secure the future family farm. In 1958 they settled in Screven County and established Polka Dot Farm. Betty would assist in the day to day farm operations for many years until taking a job with the Screven County Board of Education until her retirement. She enjoyed sewing, reading, puzzles, UNO, vacationing at Pawleys Island, SC, was a faithful Georgia Bulldog fan, and above all else loved spending time with her grands and great-grands. She was also a member of the First United Methodist Church, and attended the Nell Pace Sunday School Class and the Friendship Circle. She was preceded in death by her beloved husband, William Brice Nelson, Sr. and son-in-law, Bob Kirk.
She is survived by her two daughters and son-in-law, Janet N. Kirk, and Billie Anne and Mike Ruel, all of Sylvania; son and daughter-in-law, William Brice, Jr. and Andra Nelson of Watkinsville, GA; brother-in-law and sister-in-law, Rev. Ed and Ann Nelson of Peachtree City, GA; grandchildren, Brice Hamilton Kirk and Kerri Hetzler of Charleston, SC, Ashleigh Sanders Morton and Taylor Driggers of Statesboro, Nick and Allison Sanders of Sylvania, and Ensign William Clark Nelson of Homer, AK; great-grandchildren, Halleigh Elizabeth Morton, RaeLynn Austin Driggers, and Sander Macallan Driggers, all of Statesboro.
Graveside services will be held on Friday, July 10, 2020 at 2:00 P.M. in the Screven Memorial Cemetery with Rev. Sonny Mason officiating. The family will receive friends afterwards with social distancing observed.
In lieu of flowers memorial contributions may be made to the First United Methodist Church, care of the youth and children's fund, P.O. Box 256, Sylvania, GA 30467.
Friends may sign the online register book at www.joineranderson.com