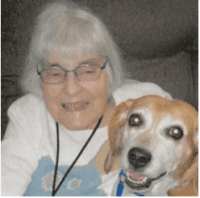 Elizabeth Georgena Ellis also known as Betty Jean Ellis, 92, of Hershey, PA died on Thursday, July 18, 2019 in Fisherville, VA. Born June 23, 1927, in Hartsville, SC, she was the daughter of the late Jullian R. and Mary Johnson Ellis.
She was a graduate of Hartsville High School, Coker College, and received a Master of Science (Library Science) from Syracruse University, Syracruse, NY. After working for 35 years as a teacher/librarian with the Department of Defense Dependents School System in England, Germany, Japan, the Philippines, and Iceland, she retired in Hershey, PA. In retirement she was active in many organizations, volunteer service, and continued to travel. She was a member of the Spring Creek Church of the Brethern, Hershey, PA.
Surviving are her nieces, Rebecca (Ronnie) Clark of Hartsville, SC, Penelope (Charles) Ingram of Hartsville, SC, Dr. Ellen Miller of Warm Springs,VA; nephew, Jerry (Gretchen) Miller of Arlington, VA.
She was preceded in death by her sisters, Sara Atha Gainey and Frankie Miller.
Graveside services will be held at 3:00 p.m. on Thursday, July 25, 2019 in the New Providence Baptist Church Cemetery. The Rev. John Purvis will officiate and Brown-Pennington-Atkins Funeral Home is caring for the family.
Memorials may be made to the New Providence Baptist Church Cemetery Fund, 1884 Antioch Rd., Hartsville, SC 29550.