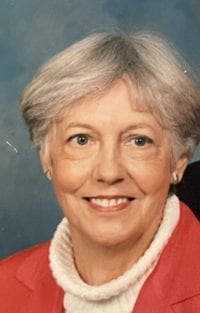 Dorothy Garrell Hanna, age 91, of Elizabethtown, NC, passed away on Wednesday, June 9, 2021 at New Hanover Regional Medical Center. She was born in Tabor City, NC, April 28, 1930, the daughter of the late CD Garrell and Bertha Johnson Garrell. She met her husband of 62 years, Herb, at Coker College in Hartsville, SC, where she graduated with a degree in business.
Mrs. Hanna was predeceased by her husband, Herbert Harris Hanna; parents, CD and Bertha Johnson Garrell; sisters, Frances G. Cox, Berniece G. Dunnagan, and Sara G. Stephens; brothers, Dick Garrell and Duke Garrell. She is survived by her daughter, Elizabeth Hanna Sasser (Alan) of Elizabethtown; sister Dulcie G. Bunn of Whiteville, NC; granddaughter, Erin Sasser Lail (Phillip) of Wilmington, NC; and grandson, Ryan Harris Sasser of Elizabethtown.
Mrs. Hanna was known to decades of children at Elizabethtown Presbyterian church as "Miss Dot", where she played the piano for children's Sunday school classes and the children's choirs. To her immediate family, as well as her extended family at the Davis Community, she was affectionately known as "D-Dot."
The family would like to extend a huge thank you to the staff of Lightkeepers, at the Davis Community, for the exceptional care and love that Mrs. Hanna was given during the last years of her life.
A memorial to celebrate the life of Mrs. Hanna will be held at a later date.