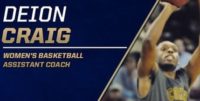 Deion Craig named Assistant Coach Women's Basketball at Charleston Southern University.
Charleston Southern head women's basketball coach Fred Applin announced on Wednesday that Deion Craig will join the Bucs' program as assistant coach. Craig comes to CSU from Western Kentucky University where he assisted the women's basketball team and was a former player at Coker University and East Georgia State College. Craig was a practice player for the WKU women's basketball team that won the 2016-2017 regular season and Conference USA tournament championship and made an NCAA tournament appearance. He received a scholarship to play at Coker University in Hartsville, S.C. and was a member of the men's basketball team from 2014-16.
Coming to CSU, Craig is excited to start his coaching career and learn how to manage a Division I basketball program. He hopes to use his past collegiate playing experience to help the Bucs as they prepare for the 2017-18 season. "I hope to learn the behind the scenes work that it takes to run a successful women's basketball program at this level," Craig said. "The media aspect, recruiting, practice schedules and players class scheduling. All of these things and more are going to really push me to grow as a young coach, while I try to do my best to contribute my knowledge to help the team."
Craig graduated from Coker University in 2016 with a Bachelor of Arts in Physical Education with a concentration in Exercise Science. He is currently pursuing a Master's in Intercollegiate Athletic Administration from Western Kentucky University and is expected to graduate in May of 2018.
Link here to full article.