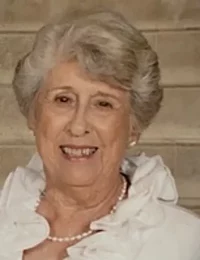 Betty Barnes Walpole Weller, 85, of Spartanburg, known by her family and friends as "Precious," died Wednesday, September 1, 2021 at Spartanburg Regional Hospice Home after a long and courageous battle with cancer.
Born in Columbia, SC on August 13, 1936, she was the firstborn daughter of Elizabeth Glenn and Donald Alfred Barnes. She graduated from Central High School in Charlotte, NC and Coker College in Hartsville, SC.
She was the widow of H. Edward Walpole, Sr. (d. 2008) and James "Jimmy" Ward Weller (d. 2018). After graduating from college, she married Ed, and in their life together of 50 years, they began their family, their devotion to the Presbyterian church, and their contributions to society and the common good. In 2015, she fell in love again and married Jimmy, her high school sweetheart. They enjoyed three years together of tender love, devotion, and companionship before Jimmy's death in 2018. She loved Jimmy's family as her special "bonus" family.
She is survived by her two children, Dr. H.E. "Chip" Walpole, Jr. (DeAnn) of Easley, SC and Beth W. Neidenbach (Peter) of Spartanburg, SC. She was the proud "Precious" to seven grandchildren, Gambrell W. Burns (Jordan), H.E. "Trey" Walpole, III (Sydney), Caroline L. Walpole, Charles E. Neidenbach (Jane), Sarah Glenn Neidenbach, Charlotte E. Neidenbach, and Thomas M. Neidenbach; great-grandchildren, Estelle Burns and H.E. "Ford" Walpole, IV. Surviving siblings are Lucy Barnes Reiley (Chuck) and Margaret Barnes Peery (Pete) and numerous nieces and nephews.
Betty's life revolved around her family and her church. Nothing made her happier than to gather family and friends around a table for celebrations, holidays, or any day. She was devoted to her parents, siblings, husbands, children, grandchildren, and great-grandchildren and it provided her the greatest joy throughout her life. She was gracious, loving, feisty, sweet, hospitable, helpful, and kind. She treasured her many friends and held a very special place in her heart for each and every one.
Betty's contributions in Spartanburg and other communities where Ed and their children lived are numerous. As a member of First Presbyterian Church, Spartanburg, she served as an elder, a deacon, extended session nursery volunteer, and was an active member of the peace and justice committee. In 1979, she was the co-founder of The Shepherd's Center in Spartanburg, an inter-faith meeting place that provides educational and recreational programs for anyone aged 50+.
Betty had a true servant's heart and was always ready to lend a helping hand or a listening ear to anyone. She especially enjoyed sharing her beautiful roses and a loaf of Pure Joy cinnamon bread. She loved protecting and raising hundreds of bluebird families throughout her life- a love instilled in her by her mother.
The family wants to thank her loving caregivers at home and the staff at the Spartanburg Regional Hospice Home for their excellent care in her final days.
Betty felt especially close to God through worship, organ music, and hymns. In lieu of flowers, memorials can be made to First Presbyterian Church Spartanburg, ORGAN FUND, 393 E. Main Street, Spartanburg, SC 29302.