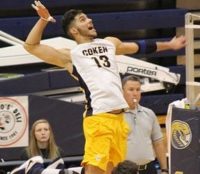 Recent Coker men's volleyball graduate Artur Cabral has signed a professional contract with Santo André Super Vôlei, located in Santo André, São Paulo, Brazil.
Cabral will compete for the professional men's volleyball club during the 2017-18 season.
"It is a traditional team that will play against all of the best professional clubs in Brazil," stated Artur Cabral. "This will be a huge challenge in my young professional career and I'm honored to be a part of this club."
During his playing days with the Navy and Gold, Cabral snapped the Coker career kills record by collecting 938 kills during his four years with the Cobras. The former Coker outside hitter also holds Cobra records in career service aces (156), single season kills (367, 2015), single season kills per set (3.90, 2015), single season service aces (50, 2015), and single season service aces per set (0.60, 2016). In addition, Cabral finished second in the nation in service aces per set for two consecutive years in 2015 and 2016.
Cabral continued his dominance throughout his collegiate career by being named to the inaugural All-IVA Tournament Team, the Off the Block/Springbak All-Independent Team, and being voted the Off the Block/Springbak National Fan Choice Player of the Year for DI-DII men's volleyball in 2016.
"I am extremely proud of Artur, he's worked very hard to get to this level," said head Coker volleyball coach Julia Rowland. "I know he will do great things at the next level and I'm looking forward to following his team and becoming a fan of Santo André Super Vôlei.