Master of Science in Management & Leadership
Every industry has one thing in common: a need for strong leaders.
Coker University invites current and future leaders to enroll in this online graduate program focusing on 21st-century management and leadership. Deepen your knowledge and expand your skills to become the competent and authentic influencer that today's thriving companies desire.
Students explore topics such as motivating others, mobilizing teams, and leading individuals toward a shared goal. Every course in this 30-hour program is taught from a real-world perspective, preparing leaders who can address today's unique challenges.
89%

Graduation Rate

for students of Coker University's Master of Science in Management and Leadership
---
Key Classes for your success
Leadership & Team Management
---
This course provides students with the social science tools needed to solve organizational problems and influence the actions of individuals, groups and organizations. It prepares managers to understand how to best organize and motivate the human capital of the firm, manage social networks and alliances, and execute strategic change. This is accomplished through knowledge of competitive decision making, reward system design, team building, strategic negotiation, political dynamics, corporate culture and strategic organizational design.
Global Initiatives in Management
---
This course is an international business course designed to provide students with an introduction to the unique business opportunities, management practices and market dynamics of a specific country or region of the world. This course is focused on gaining knowledge of how a multinational corporation competes successfully in the marketplace, with a particular emphasis on the MNC's global strategy levers and organizational factors within the context of its industry globalization drivers.
Negotiations
---
This course is designed to improve students' skills in all phases of negotiation: understanding prescriptive and descriptive negotiation theory as it applies to dyadic and multiparty negotiations, to buyer-seller transactions and the resolution of disputes, to the development of negotiation strategy and to the management of integrative and distributive aspects of the negotiation process.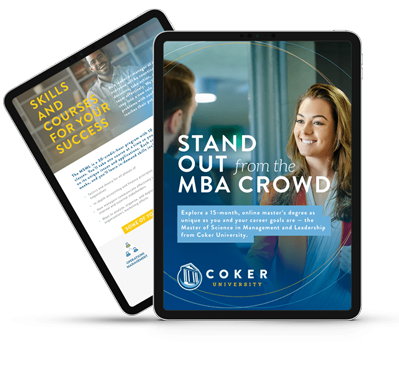 Learn More!
Interested in learning more about the Master of Science in Management & Leadership program? Download our program preview, or contact an admissions representative today at masters@coker.edu.
TAKE THE NEXT STEP
By requesting information, I authorize Coker University to contact me by email, phone or text message at the number provided. There is no obligation to enroll.
WHY CHOOSE COKER UNIVERSITY FOR YOUR MASTER'S DEGREE?
100% online program — further your education without pausing your career.
Flexible format — complete your coursework on your schedule.
Passionate professors — learn from a close-knit community of seasoned instructors.
Collaborative nature — group projects provide hands-on leadership experience.
A comprehensive approach — earn valuable credentials across functional areas.
Competitive cost — because quality education should be affordable and accessible.
Corporate & Community Partner's
Gold & Blue Scholarships
Coker offers the Corporate and Community Partners Gold Graduate Scholarship (25% off tuition) to employees of five local organizations:
Carolina Pines Regional Medical Center
Duke Energy
McLeod Health
North Industrial Machine
Sonoco Products Company
Hope Health
Coker offers the Corporate and Community Partners Blue Graduate Scholarship (10% off tuition) to employees of three local technical colleges:
Florence-Darlington Technical College
Midlands Technical College
Northeastern Technical College
Are you a Coker alum?
Alumni of Coker University get $5000 off of their degree when they return to Coker, starting in 2021, to complete a Master's degree.
All alumni qualify automatically, and no additional application is required.