Master of Science in Sports Administration
ADVANCE YOUR CAREER IN ATHLETICS
Coker understands graduate students have busy schedules packed with work and family responsibilities, which is why we designed our entirely-online Master of Science in Sports Administration program with a flexible, convenient format.
If you're interested in advancing your career or receiving focused training in specialized areas, Coker's program will help you combine your passion for sports with the in-depth knowledge needed to further develop the skills necessary to qualify for high-level, athletic-focused positions.
Coker's College Sports Administration graduates will learn the industry essentials, including how to develop and deliver an effective public relations campaign in college and university athletic programs while utilizing mass and social media, NCAA compliance principles and current key issues, how to develop and implement a successful fundraising program, create sound budgets, and handle a wide range of financial issues.
Coker's coursework focuses on the industry's three main components:
Finances: Business management/finances/fundraising
Legal: Legal and ethical issues/compliance
Communication: Sport communication/marketing/recruiting
90%

Graduation Rate

for students of Coker University's Master of Science in Sports Administration
---
Coker's M.S. in Sports Administration is ranked #12 in the country by OnlineMasters.com's 'Best Online Sports Management Programs' category.
The program is also ranked #30 by TopManagementDegrees.com, based on "accreditations, affordability, and prestige."
KEY CLASSES FOR YOUR SUCCESS
Marketing of Intercollegiate Athletics
---
This course examines the principles of marketing as they apply to intercollegiate athletics. Concepts unique to the sports product including consumer behavior, media and public relations will be emphasized. Promotional activities, market segmentation and legal aspects exclusive to intercollegiate athletics will be analyzed as the student develops successful marketing strategies.
Legal and Ethical Issues in Intercollegiate Athletics
---
This course is designed to provide students with an understanding of the legal and ethical issues associated with the operation of an intercollegiate athletic department. Through the analysis of case studies and current issues, students will focus on the practical application of laws and regulations and the implications that ethics have on decision making and management in intercollegiate athletic administration.
Fundraising in College Athletics
---
This course is designed to combine fundraising theory with the skills and knowledge needed to implement and develop a successful college athletic fundraising program. In addition to providing insight into how to assess the fundraising environment and evaluate an organization's capabilities, this course will cover topics on board development and using research to design critical campaigns and identify multiple sources of funding.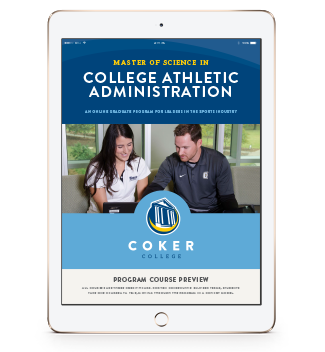 Learn More!
Interested in learning more about the Masters of Science in Sports Administation program? Download our program preview, or contact an admissions representative today at masters@coker.edu.
TAKE THE NEXT STEP
By requesting information, I authorize Coker University to contact me by email, phone or text message at the number provided. There is no obligation to enroll.
WHY COKER UNIVERSITY?
flexible, online format
learn from experienced athletic administrators; all faculty have real-world experience in the field
collaborate with students already working in college athletics
affordable tuition
one-on-one assistance from faculty in developing a personal brand, portfolio, and career plan
Are you a Coker alum?
Alumni of Coker University get $5000 off of their degree when they return to Coker, starting in 2021, to complete a Master's degree.
All alumni qualify automatically, and no additional application is required.
Hear from our Alumni
"The Coker MSCAA program showed me that having interests in other area within collegiate athletics is good when you have dreams of moving up one day. I never thought I would be interested in some areas of collegiate athletics. However, when I completed the classes associated with those I found a new interest. I believe the well-rounded experience will be invaluable over the coming years as I look to expand my responsibilities…I would recommend the program to anyone who has aspirations of working in collegiate athletics. I believe the ability to gain so much knowledge in a short amount of time is crucial to success for the future. This program covers every area you may have to deal with as a collegiate athletic administrator. It also allows you the ability to expand on those areas if you find an interest in it."

Max W. Wolfe III (M.S.C.A.A. '18)