Master of Education in Curriculum & Instructional Technology
Remain at the forefront of your field with this online graduate program.
This specialized Master of Education program at Coker University is designed for educators and professionals who wish to focus on curriculum and instructional technology in an educational setting. Offered in an online format, this advanced degree is attainable for those currently working in the field of education.
PROGRAM BENEFITS
Cutting-edge curriculum prepares you to make a positive impact on students
Allows you to serve in a wide variety of subject areas and educational settings
Meets growing demand for instructional technology knowledge in K-12 schools
Affordable tuition allows for greater return on investment
Online format offers flexibility and focus*
*Students take one three-hour online course every six-week graduate term for 10 consecutive terms.
Key Classes for your success
Diverse Learners and Equitable Learning Environments
---
This course focuses on the diversity of learners and considers the historical struggle for equity and excellence in educating all students. Concepts of social justice, gender, race, ethnicity, disability, culture, privilege, institutional racism, poverty, and wealth will be examined.
Student Centered Curriculum/Instruction
---
This course focuses on instruction that places students at the center of learning (e.g. Universal Design, Project Based Learning) to increase motivation, improve retention of knowledge, promote deeper conceptual understanding, and develop more positive attitudes toward the subject(s) being taught.
Exploring and Evaluating Digital Tools for K-12
---
The primary focus of this course is to introduce the multitude of technology tools, software, and hardware currently used in K-12 classrooms so that informed decisions can be made about the use, purpose, and benefits and disadvantages of using such technology in the classroom. Topics will include: educational computer software, application software, instructional software, and educational hardware.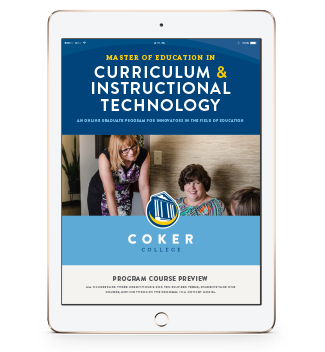 Learn More!
Interested in learning more about the Master of Education in Curriculum & Instructional Technology program? Download our program preview, or contact an admissions representative today at masters@coker.edu.
TAKE THE NEXT STEP
By requesting information, I authorize Coker University to contact me by email, phone or text message at the number provided. There is no obligation to enroll.
WHY CHOOSE COKER UNIVERSITY FOR YOUR MASTER'S DEGREE?
100% online program — further your education without pausing your career.
Flexible format — complete your coursework on your schedule.
Passionate professors — learn from a close-knit community of seasoned instructors.
Collaborative nature — group projects provide hands-on leadership experience.
A comprehensive approach — earn valuable credentials across functional areas.
Competitive cost — because quality education should be affordable and accessible.
Excellence in Teaching Scholarship
Because all great teachers are worthy of our investment, we are offering a scholarship for any Teacher of the Year (past or present) who wants to further his or her education. In addition, two outstanding teachers will receive a full scholarship for their Master of Education at Coker College.
Are you a Coker alum?
Alumni of Coker University get $5000 off of their degree when they return to Coker, starting in 2021, to complete a Master's degree.
All alumni qualify automatically, and no additional application is required.
Meet Your Mentors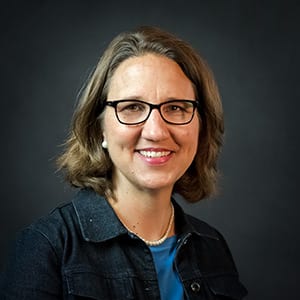 Susan Henderson
Provost and Dean of the Faculty
"Coker has been an important part of my life since childhood and a source of wonderful memories over several decades. Completing my teaching credential in…
View Susan's Profile