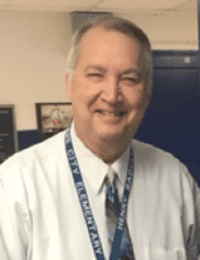 Silas Henry Baggett, Jr., age 65 of Oneida TN, passed away unexpectedly on Tuesday, February 9, 2021 at the Big South Fork Medical Center in Oneida. He was born in Charleston, South Carolina, on March 30, 1955 to the late Carey and Henry Baggett, Sr.; and was principal of Lake City Elementary in Rocky Top, TN.
Henry was a 1973 graduate of Mt. Pisgah High School in Kershaw, SC where he played football, basketball, baseball, and golf. He was proud to be on the 1971 State Runner up and 1972 State Championship team in basketball. Henry received his Bachelor's Degree from Coker University and his Master's Degree from the University of South Carolina. He taught math at Lugoff Elementary and was a teacher and coach at Lugoff-Elgin Middle and North Central High School. He served as principal at Baron DeKalb Elementary, Mt. Pisgah Elementary, Camden Middle, and North Central High, all in the Kershaw County School District in SC. Henry's father was the first principal at North Central High, and he was the fourth. He was named 1992 KCSD's Principal of the Year. In 1997, he was named Assistant Superintendent of Administration for KCSD. In 2004, he and his family relocated to Oneida, TN, when he became Superintendent of Oneida City School District. In 2011, he accepted the principal position at Lake City Elementary. He enjoyed working with students, teachers, and staff, and looked forward to seeing everyone's smiling face when he went to school.
Henry is survived by his wife of 44 years, who was his high school sweetheart and the one true love of his life: Cindy Gandy Baggett; two sons: Joe Baggett (Bryanna) of Somerset, KY, and Tim Baggett (Ashlinn) of Oneida, TN; two beautiful granddaughters who brought so much joy into his life: Aspyn and Alayna; two sisters: Rebecca Devereux (Art) of Moncks Corner, SC, and Karen Faulkenberry (Benny) of Camden, SC; as well as a host of other family members and friends.
His request was cremation, and a private family memorial service will be held.
In-lieu-of flowers, the family suggests a donation be made to LECS Henry Baggett Memorial Fund, make checks payable to LCES with LCES Henry Baggett Memorial in the memo field address Lake City Elementary, 402 Lindsay Ave, Rocky Top, TN 37769, or The Children's Center at the Cumberlands, PO Box 4314, Oneida, TN 37841.
With the Health Guidelines in place at this time, we ask that you be mindful of the social distancing measures recommended by the Centers for Disease Control. Masks are required.
Jones & Son Funeral Home is serving the family of Silas Henry Baggett, Jr.