Shirley Lupfer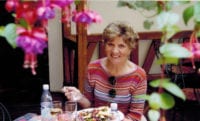 Shirley Lupfer died peacefully at home on June 18, 2021, at the age of 83.
Raised by her aunt and uncle, Viola and Jimmy Burton, in Conway, South Carolina, Shirley graduated from Coker College in 1959 with a B.S. in history and social science. She earned her master's in clinical psychology from Vanderbilt in 1961.
After serving for two years as staff psychologist at Chattanooga's Moccasin Bend Psychiatric Hospital, Shirley moved to Memphis in 1963 to join the psychology faculty of the University of Memphis (then Memphis State University). She met Michael Lupfer when he joined the faculty the following year. They married in 1967, and their son Eric was born two years later.
Shirley remained a member of the U of M faculty for 35 years, teaching courses in abnormal and developmental psychology, theories of personality, and women in American society. She was especially proud of the courses she developed on human sexuality and the conceptions and portrayals of "deviance" in western culture.
Shirley served the department and university in multiple roles. She directed the psychology department's master's program from its inception in the early eighties until her retirement in 1998. She also supervised clinicians in training in the department's Psychological Services Center, which provides critical counseling services to the Memphis community.
However, teaching was Shirley's true passion. Her remarkable skill as a teacher and mentor touched countless lives. She was one of only a handful of faculty to receive The University of Memphis Distinguished Teaching Award twice (1974, 1983). In 1986, she received the W. Russell Smith Award for Teaching Excellence in the College of Arts and Sciences, and in 1990 the University College Advising Award.
In 2012, Shirley and Mike endowed an award for Excellence in Undergraduate Teaching in the U of M's psychology department—an extension of their commitment to the university's core educational mission. The "Lupfer Award," as it is known on campus, is presented to a full-time member of the University's psychology faculty once every four years, most recently in 2021.
After retirement, Shirley continued teaching but at a different Memphis institution. In 2000, she became a docent at Memphis Brooks Museum of Art, leading tours of the museum's permanent and traveling exhibitions with her broad knowledge, insight, and wit.
Shirley's community service also included serving as board chair of Planned Parenthood and Girls Inc. She was a member of the Leadership Memphis class of 1985. In 1988, she and Mike received the Leadership Memphis Gooch Award for Community Service.
Shirley often joked that Mike could have been a travel agent in another life. In their 51 years together, the two of them traveled the world. Together, they visited all seven continents, attended the four tournaments in the tennis Grand Slam, and hiked nearly all of the trips the Sierra Club offers. Beloved friends spent happy evenings at the Lupfers' home in Central Gardens viewing slides and hearing stories from their adventures.
Shirley was an avid reader, a splendid cook, and a dedicated crossword puzzler. She loved tennis and the friends she played with. Her passion for the Boston Red Sox, which she shared with Mike, ran deep, as did her dedication to her dogs Bonnie and Andy. To her final days, she remained entirely herself—sharp and curious, quick with a story, and generous with affection, broccoli cornbread, and rosemary pecans for her many, many friends throughout the city.
Mike passed in 2018. Shirley is survived by her son and daughter-in-law, Eric Lupfer and Victoria Davis of Austin, Texas; her nephew Mike Johnson and his wife Debi of Loris, South Carolina; and her sister-in-law Sharon Nardo, niece Abby Nardo, and Abby's husband Christian Karkow, all of Raleigh, North Carolina.
The family will hold a memorial service in the fall. In lieu of flowers, please send donations to Memphis Brooks Museum of Art, Planned Parenthood, Girls Inc., the Overton Park Conservancy, or a charity of your choice.