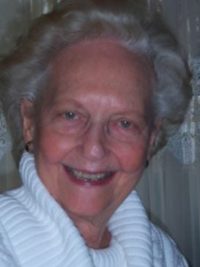 April 24, 1927 – June 17, 2012
Mary Maxine Fore Taber, 85, died at the Mary Washington Hospital in Fredricksburg, VA, Sunday, June 17, 2012. Funeral services will be held 11:00 A.M., Tuesday, June 19, 2012 at St. Barnabas Episcopal Church in Dillon, SC with interment at 3:00 P.M. Graveside at St. Matthews Parish Episcopal Church in Fort Motte, SC. Visitation will be held Monday, June 18, 2012, from 6:00 to 8:00 P.M. at Kannaday Funeral Home in Latta, SC.
Mrs. Taber was born in Latta, SC, April 24, 1927 the daughter of the late Willis K. and Carrie P. Fore. She was the widow of Albert Rhett Taber, III of Fort Motte, SC. Mrs. Taber was a long time member of St. Barnabas Episcopal Church where she sang in the church choir for over fifty years. She was a graduate of Coker University and a retired teacher with the Dillon County School System with more than forty years service. She served as past President of St. Cecilia's Music Club, was former Regent, Vice Regent, and Historian of the Rebecca Pickens Chapter of the National Society of the Daughters of the American Revolution. She loved serving her church, St. Barnabas Episcopal, and was a beloved wife, mother, grandmother, and great grandmother.
She is survived by her son, Albert Rhett Taber, IV and daughter-in-law, Larisa N. Taber of Alexandria, VA; two grandsons, Albert Rhett Taber, V and Darrel Willis Taber; five great grandchildren, Abigail Emma Taber, Albert Rhett Taber VI, Lillian Brooke Taber, Penelope Rose Taber, and Eleanor Violet Taber; and two sisters, Alyce Fore Palmore of Madison, MS and Carmen Fore Allen of Johns Island, SC.
Memorials may be made to St. Barnabas Episcopal Church, 611 E. Cleveland St., Dillon, SC 29536.
You may sign the online guestbook at www.kannadayfuneralhome.com.