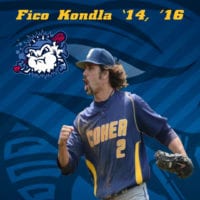 LEXINGTON, S.C. – Former Coker baseball standout Fico Kondla '14, '16 has been named the head coach of the Lexington County Blowfish of the Coastal Plain League for the 2021 season, announced today (Thursday, Oct. 29).
Kondla is entering his third season as an assistant coach at Newberry College, where the Wolves won the South Atlantic Conference regular season championship during his first season on staff in 2019.
"I'm very happy to be the next head coach of the Lexington County Blowfish," said Kondla. "Part of this opportunity definitely goes back to my days at Coker. Coach Schmotzer stressed the importance of being detailed in everything you do and to never cut corners on or off the field. Coach not only taught the game of baseball, but he also taught the game of life and he made sure that he prepared me for the real world after baseball. You have to wake up every day and realize that nothing in life is handed to you, that you must go out and earn it. I'll forever be greatful for Coach Schmotzer and for Coker for helping me toward this opportunity."
Kondla appeared in 141 games in his Coker career, totaling 103 runs, 168 hits, 29 doubles, two triples, four home runs, 119 runs batted in and 59 stolen bases. He owned a career .346 batting average, a .416 on-base percentage and a .438 slugging percentage. He helped Coker to a berth in the 2013 NCAA Division II World Series, being named to the All-Conference first team, Conference Carolinas All-Tournament team, NCAA Southeast Regional All-Tournament team, and the NCBWA All-Region team.  He was also named Conference Carolinas Player of the week three times during the regular season. As a junior, he was also a Josh Willingham Award finalist, which is given to the Most Valuable Player in Division II baseball. Kondla's name is scattered across the Coker baseball record books, both in the career and single-season categories. His 200 career hits rank fourth all-time in program history, while he is also fourth all-time in career doubles (33). His 119 career RBI are the most in program history, while he is second all-time in single-season batting average (.418, 2013). He is also second all-time in hits in a single season (76, 2013), tied for fifth in doubles in a single season (16, 2013), seventh in runs batted in in a single season (50, 2013) and sixth in single-season stolen bases (27, 2014).
"Fico is a driven man, and one driven to be a college baseball coach," said former head coach Dave Schmotzer. "This job is another step on his way. He won't stop until he gets there, he still has the same drive he had as a player, and I'm proud of him."
Kondla is a 2014 graduate of Coker with a bachelor's degree in sport management, while earning his master's degree in college athletic administration from Coker in 2016.