Amanda Hubbard Sedgwick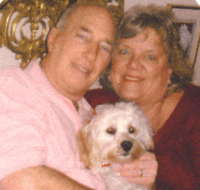 Amanda "Mandy" Hubbard Sedgwick, 74, formerly of Tybee Island, passed away peacefully in her sleep on Valentine's Day. She was the daughter of the late Louis Dexter Hubbard and Ellen Osterbind Hubbard of Fredericksburg, VA. She was preceded in death by her husband, Michael James Sedgwick and her brother, Louis Dexter Hubbard, Jr. Surviving are her sisters, Mary Charles Blakebrough of Durham, NC and Louisa DeVore (Phil) of Springfield, VA and a brother, Carter Clarke Hubbard, Sr. (Barbara) of Savannah, GA, 4 nephews, 4 nieces and 6 grand nieces and nephews.
Mandy was born in Fort Monroe, VA and grew up in Fredericksburg, VA, where she graduated from James Monroe High School. She then went on to Sanford Preparatory School in Hockessin, DE before attending and graduating from Coker College in Hartsville, SC. She was a career educator, teaching primarily for the Department of Defense in Japan and Germany, where she met the love of her life, Michael Sedgwick.
She and Michael shared a loving life together, along with their adorable cockapoo, Mitsy. They retired to Tybee Island and enjoyed entertaining their friends from all over the world. She was a communicant of All Saints Episcopal Church, Tybee and St. John's Church, Savannah. Her true treasures of this life were her family and friendships. She lived life to the fullest.
A memorial service will be held at St. John's Church, 1 West Macon Street, Saturday, February 22nd at 10:00 a.m. A celebration of her life will be held at a later date.
In lieu of flowers, please make remembrances to All Saints Episcopal at Tybee Island, GA or St. John's Church, Savannah, GA, or a charity of your choice.
Please sign our on-line guest book at www.foxandweeks.com.