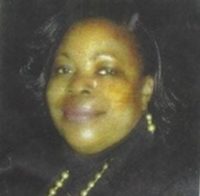 July 21, 1959 – March 11, 2018
Alberta Major departed this life on March 11, 2018 after an extended battle with cancer. Alberta was born on July 21, 1959 to the late Louise and Charles Major. She was preceded in death by her son, Parker John Stevens and a sister, Lula Mae Price.
Alberta, also known as "Lady", "Bert", and "Auntie", enjoyed cooking and seeing the smiles it brought the people that ate it, as well as the compliments she received when she cooked.
She often spoke "May the work I've done speak for me." Alberta enjoyed being active in her church, Savannah Grove, Florence, SC, under the leadership of Rev. Dr. Ralph W. Canty, which she became a member of on December 1, 2005. She came to Savannah Grove from Maxwell Baptist Church of Florence, SC. Alberta was a member of the Sanctuary Choir, the Youth Ministry, and Young Adult Ministry. She attended Mid-Week Bible Study faithfully and was very active in the finding and dedication of Black History in the downtown area of Florence.
Alberta also served on the Florence County Historical Commission by appointment by County Council for eight years. She was also instrumental in several sites designated as Historical sites in Florence County. Alberta was also an Honors graduate at Coker University. She was active with the Transitional Shelter for the Homeless Advisory Board, Sistah to Sistah Cancer Initiative, Volunteer for the March Dimes Walk. Alberta was a strong advocate and volunteer for Florence Literacy Program, a volunteer Coordinator for Pee Dee Minority Health, she also volunteered for the Pee Dee Center for Domestic Violence for six years.
Alberta leaves cherished memories with two brothers, John "J.C." Major of Sumter, SC and Edwards (Pearl) Major of Charlotte, NC; two sisters, Carolyn Miller of Spring Lake, NC and Vanessa (Jerry) Harper of Snellville, GA; a special niece, Pamela Major of Stone Mountain, GA; a special nephew, Eric Price of Austell, GA; two aunts, Gladys Singleton of Sumter, SC and Liny Mae Woods of Washington, D.C.; one uncle, Simon Major of Sumter, SC; and a host of other nieces, nephews, family and friends.
The siblings of Alberta wish to thank our brother, John, for caring for Alberta in her final days.
There will be no public viewing for Ms. Major.
Funeral Services will be held on Saturday, March 17, 2018 at 11am at Salem Chapel & Heritage Center, 101 S. Salem Avenue, Sumter, SC, with Pastor Mitchell Adger Officiating.
Interment will follow in Hillside Memorial Park.
Family will receive friends at the home, 111 Maney Street, Sumter, SC.