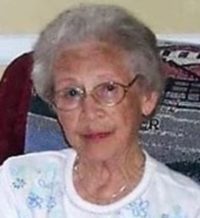 April 7, 1923 – Sepember 13, 2017
Addie Catherine Holt Shine, 94, died Wednesday, September 13, 2017, at McLeod Medical Center in Dillon, SC. Memorial services will be held Saturday, September 16, 2017, at 3:00 P.M. at Latta Baptist Church officiated by Pastor Rob Pierce. A private interment will be held at a later date in Magnolia Cemetery. Visitation will be held following the service. The family will receive friends at other times at their mother's home. Kannaday Funeral Home in Latta, SC is assisting the family.
Mrs. Shine was born on April 7, 1923, in Marion County, SC, the daughter of the late Harvey Little and Mary Anna MacCullum Holt. She was raised in Nichols, SC and later moved to Latta, SC. Catherine was a faithful member of Latta Baptist Church for sixty-two years. She served for many years as the organist. She enjoyed music, playing the pipe organ, reading, and was an avid bridge player. Catherine also enjoyed traveling with her late husband, Daniel Bowden Shine, Jr. She graduated from Coker University with a Bachelor in History and was a member of Delta Kappa Gamma. Mrs. Shine retired as a school teacher from Pee Dee Academy. She also taught for many years at Gordon Elementary and Latta Schools.She is survived by her sons, Daniel Holt Shine (Susan) of Latta, SC and John Michael Shine (Rita) of Collierville, TN; daughters, Susan Shine McFaddin of Manning, SC and Anna Laura Shine of Matthews, NC; brother, Hoyt Holt (Avis) of Mullins, SC; sister, Bobbie Holt Cook of Lake View, SC; sister-in-law, Ruth Holt of Mullins, SC; and ten grandchildren, seven great-grandchildren, and one great-great grandchild.She is predeceased by her brother, John Holt and brother-in-law, Alton Cook.
In lieu of flowers, memorials may be made to Latta Baptist Church, 202 North Marion St, Latta, SC 29565 or Alzheimer's Association, P.O. Box 96011, Washington, D.C. 20090-6011.You may sign the online guestbook at www.kannadayfuneralhome.com.