Master of Science in Criminal and Social Justice Policy
INFLUENCE SOCIETY THROUGH POLICY
A Masters of Science in Criminal and Social Justice Policy degree helps you influence society through policy. This program, offered 100% online, provides challenging coursework and meaningful discussions, all guided by expert faculty with a passion for justice in the modern world.
Coker University's flexible format is ideal for those who are unable to enroll in a traditional, on-campus graduate program, but desire to advance their career and qualify for more influential positions. Motivated students can complete the M.S. in Criminal and Social Justice Policy from any location, in as few as 15 months.
Graduates of the program will be prepared to influence criminal and social justice policy in a wide variety of fields, including:
Local, state, and federal law enforcement
Human services
Criminal investigation
Community development
Academia
KEY CLASSES FOR YOUR SUCCESS
Race and Crime
---
This course provides students a detailed analysis of the relationship between racial groups and the criminal justice system. Topics covered will include how structural ecology influences crime in racialized communities, the relationship between the criminal justice system and structural racial inequality, the role of cognitive racial framing in the criminal justice system, and mass incarceration.
Criminal Justice Program Assessment
---
This course will provide students with a solid grounding in the applied tools for conducting program evaluation. It will include instruction and experience in conducting evaluation research with training in the methods of evaluation for public, private or nonprofit programs and policies.
The Prison Industrial Complex
---
This course introduces and examines the phenomenon known as "The Prison Industrial Complex." Topics covered are: the history of for-profit prisons, how political narratives influence public opinion of criminals, the major agencies benefiting from mass incarceration, and the influence of mass incarceration on communities and individuals across the race, class, and gender spectrums.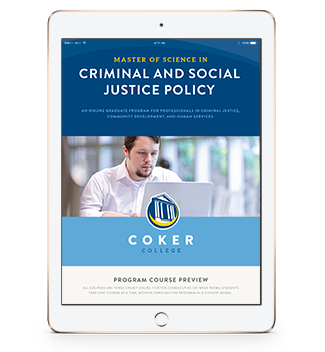 Learn More!
Interested in learning more about the Masters of Science in Criminal and Social Justice Policy program? Download our program preview, or contact an admissions representative today at masters@coker.edu.
TAKE THE NEXT STEP
By requesting information, I authorize Coker University to contact me by email, phone or text message at the number provided. There is no obligation to enroll.
WHY COKER UNIVERSITY?
Become more marketable for promotions and pay increases without taking time off.
Get hands-on policy writing experience through a rewarding capstone project.
Learn from an experienced, accessible network of professors committed to your success.
Enjoy collaboration with your classmates using innovative online tools.
Minimize debt with affordable tuition and a swift 15-month program.
Are you a Coker alum? All Coker alumni receive their last master's class free, a savings of ~$2000.
Coker University
Supports S.C. Law Enforcement
Any member of S.C. Law Enforcement will receive 50% off tuition for Coker's M.S. in Criminal and Social Justice Policy program
For more information, please contact masters@coker.edu.