Master of Education in Literacy Studies
A 100% ONLINE PROGRAM DESIGNED FOR THE BUSY TEACHER'S LIFESTYLE.
You're passionate about your students and you know that literacy skills build the foundation of a child's ability to learn. That's why earning your master of education is about more than stepping forward in your career. It's about developing the skills and knowledge to improve your students' futures.
The Master of Education in Literacy Studies program at Coker College is an online program, allowing teachers to remain in the classroom while completing their coursework online. It aligns with goals and initiatives set forth by the state of South Carolina and prepares you for the future of education.
Graduates will qualify for the South Carolina Department of Education's Literacy Teacher add-on certification. As a Certified Literacy Teacher, you can maximize your impact in the classroom and qualify for advanced positions.
CAREER PATHS
Graduates of the program may pursue the following career paths:
Classroom instruction
Curriculum development
Reading specialist/coach
Administration
99%

Graduation Rate

for students of Coker University's Master of Education in Literacy Studies
---
Key Classes for your success
Literacy Instruction and Assessment for Diverse Students & Struggling Readers
---
Explores the challenges facing students at all grade levels who struggle to achieve expected progress in reading and writing development. Emphasis will be placed on the nature of difficulties, language acquisition theory, appropriate assessments, and culturally responsive instructional strategies.
Reading and Writing in the Content Areas
---
Provides in-depth analysis and application of instructional strategies to build students' reading and writing competencies in content area settings. Instructional strategic approaches focus on helping students meet the demands of reading and producing complex texts, developing vocabulary, and learning with both print and digital texts.
Creative Pedagogy in the Literacy Classroom
---
Provides opportunities to explore the purposes and strategies for using diverse children's literature across the curriculum to meet the learning needs of all children. Topics discussed will include read alouds, thematic teaching, storytelling, and writing. Emphasis will also be placed on ways to stimulate creativity and critical thinking.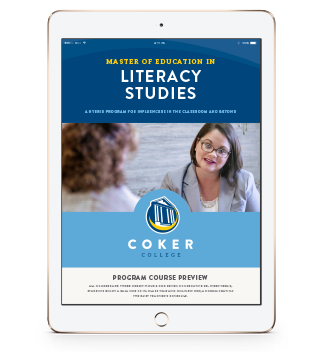 Learn More!
Interested in learning more about the Master of Education in Literacy Studies program? Download our program preview, or contact an admissions representative today at masters@coker.edu.
TAKE THE NEXT STEP
By requesting information, I authorize Coker University to contact me by email, phone or text message at the number provided. There is no obligation to enroll.
WHY COKER UNIVERSITY?
100% online program allows teachers to remain in the classroom
Excellence in Teaching Scholarship available for S.C. Teachers of the Year
Expert professors and close collaboration among cohorts
Minimize debt with affordable tuition and a concentrated program of 11 six-week terms.
Excellence in Teaching Scholarship
Because all great teachers are worthy of our investment, we are offering a scholarship for any Teacher of the Year (past or present) who wants to further his or her education. In addition, two outstanding teachers will receive a full scholarship for their Master of Education at Coker College.
Are you a Coker alum? All Coker alumni receive their last master's class free, a savings of ~$2000.