Computer Science
Computer science is the study of how a computer works: the theoretical and practical aspects of algorithm, software and hardware design.
It's also one of the most rapidly growing and developing fields in the world.
Coker's unique, discussion-based round-table learning philosophy ensures that you'll have interactive and engaging coursework that challenges you to think creatively and develop your logical reasoning skills. But the curriculum is also built on the importance of practical experience—which means that opportunities to perform research, complete independent studies, and pursue internships abound. And thanks to our knowledgeable and dedicated faculty, you'll have the opportunity to explore topics beyond what's typically covered in the classroom. At Coker, you can tailor your coursework and research to align with your personal interests and career goals.
Key Classes for Your Success
Web Programming
---
Online programs, platforms, and pages are part of our everyday lives—and programmers make them possible! This course will introduce you to CGI, ASP, scripting, configuration of web servers, and the creation process for dynamic web pages using forms and database input.
Parallel Programming
---
Modern computers are incredibly complex machines, capable of executing a number of processes in an instant. In this course, you'll learn about the theory and practical applications of concurrency, including hardware and software for shared memory, distributed memory, and hybrid systems.
Research in Computer Science
---
Once you have a basic understanding of computer science, you may want to take a deeper dive into a specific topic. Why wait until graduate school to contribute your research to the field? Coker's Research in Computer Science course empowers you to explore independently, with guidance from a faculty mentor. Students are then encouraged to submit and share their work at academic conferences and events.
One Degree That Opens All These Doors
Hardware Engineer
$85,159
IT Manager
$87,186
Software Engineer
$83,389
Web Developer
$58,999
Applications Programmer
$64,668
CAD/CAM Programmer
$53,621
Computer Programmer
$61,833
Electronics Engineering Technician
$57,439
Information Systems Analyst
$65,145
User Interface Designer
$63,888
Meet Your Mentors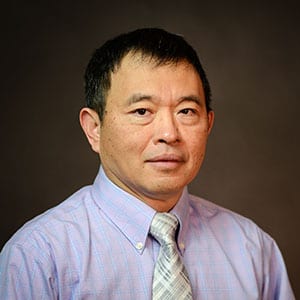 Ze Zhang
Professor of Computer Science; Coordinator of the Computer Science Program
View Ze's Profile