Excellence in Teaching Scholarship
At Coker University, we believe great teachers are invaluable and change lives through their work in the classroom. To all of the outstanding teachers serving across our home state: Thank you for your investment in our children's future. Now, Coker wants to invest in YOU.
Each year, some of the most remarkable educators in South Carolina are honored by their schools, districts, and the S.C. Department of Education with the designation of Teacher of the Year. These individuals have devoted their careers to putting young people first. At Coker, we believe that it's time to return the favor. That's why we created the Excellence in Teaching Scholarship Program, designed specifically for those who wish to pursue a Master of Education.
APPLICATION DEADLINES
May 1, 2021 – Applications Due for M.Ed. in Curriculum & Instructional Technology, Summer 2021 Cohort Scholarships
A SCHOLARSHIP FOR ALL SC TEACHERS OF THE YEAR
Because all great teachers are worthy of our investment, we are offering a scholarship for any Teacher of the Year (past or present) who wants to further his or her education. This scholarship is designed to reduce the overall cost of a master's degree for some of South Carolina's most dedicated educators.
All applicants who apply with the portfolio items listed below and begin a program with Coker University are eligible to receive full funding for one term of graduate coursework (applies to the final term of your program). This is a cost savings of over $1,500.
FULL-RIDE SCHOLARSHIP FOR ONE DESERVING TEACHER
One outstanding teacher will receive a full scholarship for their Master of Education at Coker University. Scholarship portfolios will be reviewed by the Wiggins School of Education's Graduate Committee. This is a cost savings of over $15,000.
*Beginning in 2020, S.C. Teachers of the Year that already have a master's degree will not be eligible for the full-tuition M.Ed. in Curriculum and Instructional Technology scholarship.
To apply for these scholarships, the following portfolio items will be required:
Completed application for the Master of Education in Curriculum & Instructional Technology at Coker University
Your Innovation & Leadership Statement (limit answer to two double-spaced pages): How will this degree help you in your profession?
Your philosophy of teaching (limit answer to two double-spaced pages): Describe your beliefs about teaching and include your ideas of what makes you an outstanding teacher. What rewards to do you find in teaching?
Education issues and trends (limit answer to two double-spaced pages): What do you consider to be the major public education issues today? Address one in depth, outlining possibles, causes, effects, and resolutions.
To streamline the process for applicants, these items were selected from the South Carolina Teacher of Year application packet. You may add to or revise your current documents. If you have questions about your scholarship application portfolio, contact the Office of Graduate Admissions at masters@coker.edu.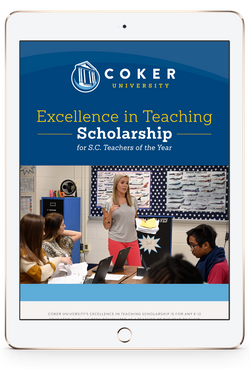 INTERESTED IN APPLYING FOR OUR EXCELLENCE IN TEACHING SCHOLARSHIP?
To learn more, download our Excellence in Teaching Scholarship packet or contact an admissions representative today at masters@coker.edu.
TAKE THE NEXT STEP
By requesting information, I authorize Coker University to contact me by email, phone or text message at the number provided. There is no obligation to enroll.
MASTER OF EDUCATION IN CURRICULUM AND INSTRUCTIONAL TECHNOLOGY
This program, offered 100 percent online, is designed for teachers who want to study new learning modes and models. Students will hone skills in both curriculum development and technology, a rare opportunity to be more effective in the classroom or in administration. The degree can be earned in 18 months. Course content includes:
Diverse Learners and Equitable Learning Environments
Advanced Foundations of American Education
Analysis of Curriculum, Instruction, and Assessment
Exploring and Evaluating Digital Tools for K-12
Introduction to Innovative Digital Instruction
Applying and Integrating Digital Technology in K-12
And more
Term begins in June. Scholarship applications are due by May 1.
Total tuition cost: $16,260 ($542/credit hour)